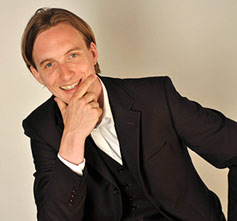 beside professional education the ones which open the door of the world
Interview
with Economic Attache Dr. Damijan Habernik
Why did you decide to select just Ljubljana for your workplace?
The work in the international surroundings was always interesting and of great pleasure for me. Already during my study I gathered work experiences in various international companies, so I worked several times in Italy and also in some Carinthian Slovenian companies. It was essential for me to use the knowledge of the languages in my business life. Ljubljana is offering all above mentioned.
Today the basis for a successful career are the knowledge of more European languages, expert qualification and professional experiences? What is your opinion?
For sure this is an ideal combination. Languages are beside professional education the ones which open the door of the world. The limits of my language are the limits of my world. (Wittgenstein). Therefore with each foreign language which one masters, one enlarges his personal limits, horizon , the field of own activities. I see my job abroad as an exceptional opportunity of collecting precious experiences, which I would like to use as a basis for my work at home.
Which are the professional opportunities, also now in the time of economic crisis, for high qualified Carinthians and entrepreneurs in Ljubljana respectively in Slovenia?
These opportunities are identical with one's knowledge and qualification. There is always a lack of qualified personal. Slovenia is offering quite some opportunities. Only if we take a look at the town Ljubljana and its surroundings, we can see there are numerous interesting objects in the process of construction. Where there is construction, there are chances for others, too- for exporters, subcontractors, service activities. In spite of the fact that some projects are now slowed down, they will be finalised in the future. The fields of the future are especially environment and energy.
You have been working and living in Ljubljana for several years. How do you feel in the main town of a small EU country?
Ljubljana is a lively, international town. Businessmen and tourists coming for a visit, are again and again impressed of the development of this dynamic town. My beautiful home place is only a bit away, so that I am enjoying the symbiosis of professional and private life between the two beautiful and interesting places, one in Carinthia and Ljubljana as the other.