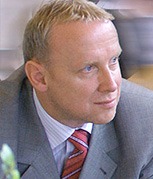 Competent Centre for international development programmes
In Interview with Bernard Sadovnik
At the assembly of the Alps-Adriatic Centre in November 2009 in Klagenfurt you outlined - among other things - the goals/ the priorities for the future activities. One goal is to extend the activities to the South-east European territory. What will you do in the short term? 
At the meeting of the Management board, which was recently held in Vienna, we analysed intensively the network and the possibilities of the AACC. The analysis showed that the Centre has extremely good basis in the territory of the EU and also in the Balkan countries for the implementation of individual economic and international projects. This network is being strengthened and additionally extended with personalities, entrepreneurs and institutions from European space. We are however extremely satisfied that some European and international organisations want to include us into their activities. The vision of the global connection and with it a wider association ,which is already a reality for various concerns, is our aim, too, what we are trying to reach with our new partners and a new network.
The members of the AACC are several communities from Slovenia, too. With some you accomplished different projects and meetings in the past. (Bled, Goriška Brda, Maribor...) Where do you see the possibilities of even closer cooperation and contacts with our communities? The Municipality of Celje wants a partnership with a Carinthian municipality similar to Celje. How is this intention developing?
Cross-border connections and especially the co-operation in the wider Alps-Adriatic region are the basic conditions for the implementation of the successful European region. Therefore we are satisfied to add our contribution to the Communal forum, which was held last year for the first time in Velden (Austria). But it will be necessary that we develop - together with the representatives of individual countries - the long term programmes and the funds connected with them in order to ensure the necessary economic climate of the successful development in the cooperation of the communities. Also regarding this matter we are discussing and preparing new concepts with important and decision making partners. The AACC is in this segment - also because of the high competence of several members - very desired partner and executor.
What are your long term plans?
We want to bring forward our AACC as a competent centre, which would be present not only in the European region, but should be extended to the other continents, too. With the new cooperating partners we should overtake the leading role for innovative international developing programmes. This global network should contribute to the importance of our mutual European space in the Alps-Adriatic region and bring the added value to the Slovenian national minority in Carinthia. Such value can be shown with the growth of the personnel and is a condition for additional capacities in the countries where the Centre will be primarily represented. A possible effect would be to enable working and developing possibilities for the young intellectual staff.